When I was in high school some friends of mine used to have little inside joke where we'd say "It's ONLY a dollar!" To be honest, I can't even remember how it got started or why it was even funny at the time, but it was the first thing that came to mind when I discovered Fiverr. As far as internet niches goes, Fiverr is striking gold by connecting cheapos like me with people who've grossly underestimated the actual worth of their services.
So to test the site, I decided to submit some photos to 4 different artists who all promised me to change my awesomely normal look into their own personal styles. It's only five dollars, I couldn't NOT do it.
"You look like a monkey"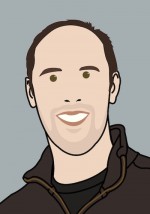 In all honesty, I have no idea what a "Julian Opie" style is, I just thought it looked cool enough to start my Fiverr experiment. To date this was the best in terms of responsiveness and quickness of delivery. The artist was extremely quick with feedback and the final artwork, even going so far as making a last-minute change. They definitely set the bar for what I expected from others.
So while the service was great, the final result was a bit underwhelming. I suspect this is less to do with the artist's ability as it is in me giving them a bland photo to work with. My feelings towards the end results were mixed at best. My girlfriend went so far as to tell me, "You look like a monkey," and then threatening to post the image on her Weibo account.
For that, I'd like to thank the artists. You've given my girlfriend more ammo in her relentless crusade to convince me that all caucasians look like monkeys. I'd pay you in bananas if I could.
Final Grade: C+
Artist: Relaxabe
Ad: Draw a julian opie style cartoon image from your picture (link expired)
Hey, is that Tobias?
My second attempt ended up with a better end result, but was much more of a shocker in terms of delivery time. My "extensive" experience on Fiverr told me these artists work fast, so imagine my shock when I didn't get my portrait within 24 hours. Screaming ensued…objects were thrown across the room…litigation written up…
Ok, I'm kidding. Basically what happened was that I had to reset my expectations for what I was going to get for $5usd. The old saying about "cheap, fast, and good" still holds on Fiverr. So while everything on the site is cheap, you still have the "fast and good" variables to deal with. After a few days of waiting, the results finally came in. It was then I realized my few days of "not fast" were offset by an increase in overall satisfaction with the final product.
That said, I'm still not completely happy. The artist had more time, but seems to have turned me into a generic cartoon version of David Cross, instead of trying to find one distinguishing feature to focus on.
It's decent work, just lacks punch.
Final Grade: B
Artist: Draculafetus
Ad: I will draw a portrait of you in my unique style
Me in a Japanese RPG supporting role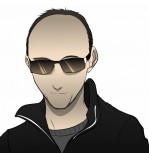 And by punch I must mean anime! How could I resist making myself look like a supporting player in Akira? This is a slam dunk, I had to have this one. My only concern was whether or not I still had enough hair on the top of my head to justify any super-power spikiness. From the results, I'd say…umm…I don't. But I must give credit to the artist, no one did better than him on nailing the look of my receding hairline. Kudos…you almost made it look cool to have a gigantic forehead.
Seriously though, this is my favorite of all the entries. Even with the anime-overlay, I don't have to spend 5 minutes convincing myself that it's me. I do have to convince myself that I'm not actually a cyborg with shotguns for arms, but I'm willing to live with that.
Side Note: I'm currently searching Fiverr for someone to convert my arms into shotguns.
Final Grade: A
Artist: Joshuab
Ad: Draw you or a friend as an anime character
The Rat Pack member?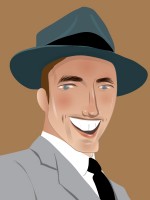 Although most of these orders were initiated at the same time, this one took the longest to deliver. The end result seems to be a little more Ol' Blue Eyes than Jeremy, don't you think? I suppose it's my fault in asking for a Frank Sinatra vibe in the picture. The artist obviously delivered. Sadly though, what makes me who I am seems to have gotten lost in the shuffle. Maybe the lesson here is that you shouldn't give people too many of your own ideas. Let them just do their work as they see fit.
Artists are usually good at feeling what you mean, instead of what you say. In this respect I have to give the artist credit for correcting my mistake in asking for "a Frank Sinatra 'Brat Pack' type of vibe," instead of the more accurate "Rat Pack". Luckily, they seemed to have known what I meant instead of what I said. Had they not, I could have ended up looking less like like Frankie and more like Judd Nelson.
Final Grade: B-
Artist: friendswith4leg
Ad: I will make a whimsical illustration of you for your FaceBook profile
I've had a lot of opportunities lately to work remotely and find myself hitting the Sanlitun Village area often. Since there are quite a few locations here to sit, eat, and use free wi-fi, I've become a frequent visitor to many of them. For those of you looking for the right place to work during the day, I present my very biased and personal reviews of each location. For the record, these are ranked by how often you can find me at one of these locations.
Best of the Best
BLUE FROG
I probably deserve an award for the amount of time I spend at Blue Frog. It's not going to fit everyone's style, but for me, it seems be my destination of choice more often than not. Of all the places I've been, their wi-fi connection has been the most reliable, with routers dedicated to each of their two floors. The amount of natural lighting is fantastic, which makes the place feel more open than it actually is. During the day, there are normally enough tables to use, but some are better than others. The big table on the north side is fantastic if you have a group, since the power plugs are built right into it. If you're hungry, the food here is above-average, even if a tad expensive. However, their lunch special options (around 50RMB) are getting better, thanks to the local competition. If you're a drinker, unlike me, you'll find their Happy Hour at 4pm to your liking. The staff here is typically friendly and hard-working, should you have any issues.
The downside is that Blue Frog is not really built for working…it is well…an eating establishment, which makes some tables a bit cumbersome to work from. Worse, the best table is in the smoking section, so you may have to deal with the random cigar-smoking patron from time to time. None of these are Blue Frog's fault, just an observation. They can control the music volume though. Whoever runs the boards, tends to like the music loud, even when there are only a few customers around. This can be a pain if you're trying to concentrate or listen to your own music.
UNION
Of all the places in the Village, Union Bar and Grille has the strongest reputation for their work environment. For me, it's pretty solid. The wi-fi is almost as solid as Blue Frog and their offering of unlimited iced-tea is hard to pass up. For some reason, they don't get as many customers as other places, so it's usually easy to get one of the better seats here. On a normal day, you'll notice other remote workers floating around. Some of them have gone so far as to almost set-up a full office. With the way Union is set-up, it's a perfect place to camp out, but then jump around the corner to another table if you need to have a more private meeting.
Don't plan on eating here, the food leaves a lot to be desired. The one exception are their desserts, which should be avoided unless you enjoy your waist and wallet taking big hits. Their chocolate cake is awesome, but it's just too big of a temptation for me to be there daily. As I mentioned, the wi-fi is fairly solid, but I have noticed some problems with the use of iPhone apps that require a network connection; some work and some don't. I don't know the cause, just be warned. The staff here is ok, but there a few bad eggs that just don't seem to care. And if you're someone like me who needs light, Union might be a bit dark for you. The dark can help keep you focused at times, but when you leave, you suddenly realize that you've been working in a cave.
FISHEYE CAFE
Fisheye is a newcomer to the Village scene, but has definitely made its mark. You're either going to love or hate this place, I'm not sure there is a middle-ground. As you can tell, I like natural light and these guys have it. With the decor being so "bright", you'll definitely feel as though you're in a cloud at times. The wifi here is also really good. And while there aren't a lot of power outlets in the wall, the management has realized who its customers are and have brought out some power cables to expand the number of available outlets. The location is smaller than many other Village locations, but it's laid out fairly well for working. They also have a nice, large table in the center perfect if you need to bring in multiple people to work. And while this may be a personal thing, I like the ratio of seat height to table height better than any other location. And since this is a dedicated coffee-shop, you'll see they take pride in their use of Ritual Coffee. I'm no coffee expert, but the fact that they give you small cupcake (from Lollipop) with your coffee is a nice touch. It hits the spot for that post-lunch sugar craving I usually have. Fisheye is definitely climbing up the ranks with me, possibly taking over Union.
I will say though if you like the variety of coffee options you find at a place like Starbucks, then Fisheye may not be for you. Their drink list is fairly limited. I'm listing that as a personal weakness, although the management here may be reducing their options on purpose. And as I said, you may just hate the color scheme here. I know some that just refuse to walk in this place with me due to over-use of white and blue. And even though I like the chair-table height ratio, I have to admit their seats are a bit uncomfortable after a while. And lastly, they use a registration system for their wi-fi that while not as annoying as some, still adds one little extra step to the process. It's forgivable, as long as they don't make it more complicated in the future.
HERCULES
This sandwich, soup, and salad place is also a growing favorite of mine primarily due to their reasonable lunch options. It's just too easy to grab a bite here and then settle down into some work. Of all the places, I think this one really tried to cater to the afternoon Village worker. The wi-fi works, the food options are there, and the tables are arranged in such a way to make working for groups and individuals easier. Even the design of the place, which is kind of bare, seems to tuned in to working. Â I'm starting to see more and more remote workers camp out over here. I suspect the networking possibilities here will begin to exceed Union's soon.
The main problem I have with this place will hopefully get ironed out over time. Other than the managers, the staff just lacks any real engagement with the customer. I've seen them botch up quite a few orders over the past few months and generally don't go out of their way to make their customers happy. I'm not even going to let myself start my "why can't I switch my Coke for an iced tea" rant here…
Best to Avoid
STARBUCKS
I know what you're saying, "How could I put Starbucks in a list of places to avoid?" Well, it's simple. The place is a foot-traffic monster that makes it difficult to stay focused, much less find a seat conducive to working. And if you do find a place to sit, you'll be hard-pressed to find a power outlet to use, which means you'll be constantly worried more about your battery conservation than your work. And even when you get all set-up, you'll need to go through a ridiculous wi-fi registration process that requires you to put in your mobile phone number to get a password. That's right, good luck travelers without Chinese mobile numbers! And then once you get online, you'll discover it's slow…molasses slow. If you're a frequent VPN user, you'll find yourself borderline insane by the quality of their connection. There have also been a few instances where their connection didn't work with Apple products, which is almost a cardinal sin if you see what the majority of expats are carrying nowadays. Overall, it's just not worth it.
But on a positive note, it is Starbucks. So if you're looking for a place to do a meeting where you can get a cup of coffee that reasonably meets your expectations, then why not come here? And of all the places in the Village, it's prime people watching territory, which makes for a great diversion when you do actually need a break from your work. Sadly though, these just aren't enough for me to consistently visit.
ELEMENT FRESH
I don't really want to knock on Element Fresh, I enjoy their food and the general atmosphere of their restaurant. It's a great place to grab a meal with friends. However, this is not a working environment place. The wi-fi is almost as bad as Starbucks and they also suffer from a lack of power outlets. It's not their fault, I know. They're just being a restaurant…and that's ok. It's just not a place I can recommend for working.
COLD STONE CREAMERY
Now how awesome is an ice cream shop for a working environment? Well, it's pretty awesome if you actually want some ice cream. They even have wi-fi! Well…I mean…they have wi-fi when someone remembers to turn it on and get it working properly. Most of the time I can't find it and even when I do, it's hardly usable. I find myself stealing wi-fi from Olas restaurant next to it. I'd really love to work here one day, but they need to get the basics right first.
Needs More Investigation
BOCATA
I just recently re-discovered this place. I've always enjoyed their food, especially the salads. I'll have to do some afternoon camp outs here and report back on this one. They do have wi-fi, so it looks promising. I just hope they fix their nice, but wobbly tables.
QUEEN'S CAFE
I've honestly only been here once. I've heard good things about it, but primarily from Chinese friends, which could be indication of the clientele. That's not a bad thing, but if you're looking for more foreign expats, this may not be the right place.
SWEETMAP CAFE
I only know about this place due to the guys I've been working with over at Let's Powwow. That's right, a location-based startup who enjoys going to Sweetmap…get it, get it?!? Anyway, I need try this place a bit more before I can give it a real review. It could be a potential contender, despite their overly "sweet" decorations.
But I seem to be losing a couple hours each way playing Fantasy Football. Worse, I'm getting my butt handed to me regularly.
Learning a new language is not easy for me. So to keep what Chinese I've acquired up-to-date, I use a lot of different tools. Â I've provided the below as an overview for anyone interested. I hope it helps.
Chinese Pod
If you'd studied Chinese at all, you're bound to know about Chinese Pod. Their two primary  hosts, Jenny and John, are "famous" within the Chinese language scene. I've been using the service for over two years. They continue to remain the model for podcast-based Chinese learning.
Pros: For beginners, Chinese Pod offers a free podcast series dedicated to that skill level. For the rest of us, the tiered pricing structure gives a lot of flexibility. If you're a self-learner or need a lot of guidance, they can find a niche for you. There is also a very active user community if you have follow-up questions about the lessons or Chinese culture in general.  Also, for people who need to read their lesson like me, PDFs are available. And of course, the podcasters genuinely sound excited about their work and have great rapport. This definitely is a contagious.
Cons: At some of the lower price tiers, the audio for the dialogue is not offered. This means you actually have to find the time in the podcast where the dialogue is and continually replay it. This is a little bit annoying, as this should be an easy feature to provide. There are also some free alternatives out there that may make Chinese Pod start looking expensive, however  I'm still investigating them.
nciku
This is the "jack-of-all-trades, master of none" site for Chinese learners.
Pros: The dictionary has every input method you could want: English, Hanzi (汉字), and Pinyin. It's pretty forgiving on the Pinyin side, which is helpful when trying to find a word whose tones you can't quite remember. Also, they have tons of sentence and dialogue examples that allow you to see the words in action. If you use MSN, they even have a bot to do quick dictionary look-ups.
Cons: The site is just too messy, so I don't use it beyond the dictionary capability that often. Because of this, it becomes more of a reference tool, Â instead of an effective study device. And since they do so many things, it just gets garbled together, almost begging you to go elsewhere. Some of the sentence examples tend to be fairly advanced, so casual users may have some difficulty finding examples relevant to their needs.
Lingt
Recommended by a friend, this site could develop into a great tool for mastering new vocabulary.
Pros: The overall concept of putting together a review schedules for new words is solid. If you already are using a set of books they support, this site can be a snap to get started with.  The game mechanics around earning badges, while cheesy, do provide enough incentive to get started with the site. Also, the cram mode is nice, especially if you need to learn a lot of words in a short period of time.
Cons: If you have to create your own vocabulary list, it can time-consuming. The list creator tool is buggy and does not let you fix mistakes, which can be extremely frustrating. You definitely need to double-check EVERYTHING you put into this tool. If you master a vocabulary list, there is no way to archive it. You either must leave it in the queue or delete it forever. So while I enjoy parts of this site, the lack of feature improvements makes me feel like the developers don't really have their heart in it. Sadly, I think their missing a huge opportunity.
Remember.it
Very similar to the Lingt concept, except with a focus on learning Chinese characters. It's a flashcard system that passes over the writing and focuses on recognition. I'm still in the trial stage, so this review may be a little premature.
Pros: Overall, the layout of the site is nice, clean, and clear. The actual learning tool is easy to use and heavily drills you on new characters (if you're honest). For the most part, the logic around the new characters they introduce makes sense.  During the lesson and tests, you are given access to the Hanzi, Pinyin, as well as an audio of the character. The fact that any character you fail to recognize during a test gets put into the next lesson is great for lazy students like me. It is a paid service, but you can participate in a 14-day free trial.
Cons: Outside of the tests and lesson review, you can't go back in and review characters. A cram mode, like what's found on Lingt, would be nice. If you want to see the character again, you must wait for the next testing of it.  And while I understand the logic of new lesson characters, it does tend add in some complicated (and not widely used) characters early in the study process.  You'd think they'd focus on some simple and more common characters. Payment is also a little high ($68usd) for some. Also, one could argue that the fact that stroke order is not taught diminishes from one's learning, but this is only relevant if you want to learn writing.